Andrew 'ACP' Comrie-Picard Takes on Legendary Pikes Peak International Hill Climb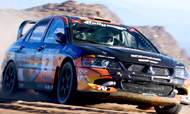 North American Rally Champion Andrew "ACP" Comrie-Picard is set to compete at the 88th annual Pikes Peak International Hill Climb (PPIHC) on Sunday. This is the first time that ACP will compete in this, the most famous hillclimb race event in the world.
In qualifying on Friday, ACP shattered the previous record in the class for rally cars at Pikes Peak with a five minute, 15 second run. For his first run on the mountain, he was very pleased: "with no recce of the road and no experience with it, I'm ecstatic to be competitive here. It's a specialized event with a lot of people with serious experience. Fortunately they've been extremely welcoming and helpful, telling me where not to crash…"
The team is running their Mitsubishi Evolution IX rally car in the form they used to win the Oregon Trail Rally last month, with the 34mm intake restrictor required for open class rally cars. The only changes to the car since the last rally have been switching to lower and stiffer Ohlins springs, and changing to Enkei tarmac rally wheels with specialized BFGoodrich tires.
In the thin air above Colorado Springs, the car is putting out about 240hp. "It feels a bit anemic, for sure," admitted Comrie-Picard, "we've turned the boost down to 15 pounds to try to ensure reliability all the way up the mountain. It's an amazing engine, but there's just not enough air to breathe without putting it in danger. I'm missing the power for sure." Still, Comrie-Picard outqualified many seasoned veterans in higher-classed cars without restrictors.
Due to other commitments, Comrie-Picard missed the first day of practice, covering the notorious center section of the mountain, known as "The Ws" from the form of the repeated switchbacks with enormous drops. When asked about Thursday and Friday practices, of the top and bottom sections respectively, ACP said, "They went great. I put down consistent fast times on the ludicrously scary fast section at the top, and I broke the class record on the bottom. As long as I can string them together with a good run in the Ws, I'm hoping to put in a strong performance on Sunday." His goal is a sub-12-minute run, and his qualifying time puts him well on pace for that.
The toll road up Pikes Peak mountain was built as a tourist toll road in 1916 and in that same year the private developer ran the first competitive hillclimb up the road to promote tourism. It is the second-oldest motor race in America, after the Indianapolis 500, and the most famous hillclimb race in the world. The course that makes up the PPIHC has 156 turns over 12.4 miles, beginning at an altitude of 9,390 feet and finishing in the clouds at 14,110 feet. Not only will the altitude have a negative effect on the performance of the engines, but will also challenge the drivers' physical fitness.
This is Comrie-Picard's first "Race to the Clouds," an event he has wanted to compete in since seeing images of the epic Group B battles as a boy in the 1980's. In previous years another rally conflicted with Pikes Peak, but this year the hillclimb is running earlier in the season to allow work crews to pave some of the most difficult sections of the road.
Said Comrie-Picard: "honestly, I had to compete here before it's all paved. Going forward, it will still be a fantastic event, it just won't be the one I always dreamed about." The slow addition of tarmac has put gravel on the endangered list. "I live in fear of a paved planet," quipped ACP.
The team has had tremendous local support and wishes to thank the Keeney family, Wreckmasters Body and Frame (www.wreckmastersbodyshop.com), Pro Designs (www.prodesignsvinyl.com), and Rex Tire and Custom Wheel (www.rextire.com).
ABOUT THE DRIVER: Andrew Comrie-Picard is the current North American Rally Champion and in 2010 will return to compete in X Games for a fifth time. He also drifts at the professional level for Dodge Motorsports and BFGoodrich in the FormulaD drift championship in a Viper. When he isn't racing, Comrie-Picard works in film, television, and print media as an automotive expert; he hosts the television show Ultimate Car Build-off (http://dsc.discovery.com/tv/ultimate-car-build-off/) airing at 9pm Mondays on Discovery Channel. He lives in Los Angeles, California.
The ACP Rally program is made possible by: NOS Energy (www.drinknos.com), K&N (www.knfilters.com), BFGoodrich (www.bfgoodrichtires.com), Motul (www.motulusa.com), AMS (www.amsperformance.com), Brian Crower (www.briancrower.com), JE (www.jepistons.com), Exedy (www.exedyusa.com), Öhlins (www.ohlinsusa.com), Enkei Wheel (www.enkei.com), Pfitzner Performance Gearbox (www.ppgearbox.com.au), Mishimoto (www.mishimoto.com), Oakley (www.oakley.com), Recaro (www.recaro.com), Innovate Motorsports (www.tuneyourengine.com), Works (www.worksevo.com), NGK (www.ngksparkplugs.com), Rockford Fosgate (www.rockfordfosgate.com), Piloti (www.piloti.com), and Skull Candy (www.skullcandy.com). -- For more information and video highlights, visit: www.acpracing.com and read the team's blog at www.drinknos.com. To arrange interviews or find out more, contact +1-310-256-5640 or media(at)acpracing(dot)com. Find us on YouTube or Twitter under ACPRacing.
About Rockford Corporation
Setting the standard for excellence in the audio industry, the Rockford Corporation markets and distributes high-performance audio systems for the car, utv audio, and marine audio aftermarket and OEM market. Headquartered in Tempe, Ariz., Rockford Corporation is a publicly traded company and manufactures or distributes its products under the brand: Rockford Fosgate(R). For more information, please visit: rockfordfosgate.com.