Andrew "ACP" Comrie-Picard Runs Rockford Fosgate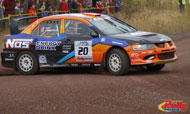 Andrew "ACP" Comrie-Picard and the NOS Energy rally team scored a third place overall in the 2009 Rally America Championship, edging Monster Energy's Ken Block out of the top three despite suffering an engine failure while angling for the a podium at last weekend's season ender.
"We had the runner-up position in the championship in our sights, so the DNF at the final round was a disappointment," said Comrie-Picard, "But we've had a strong season and the whole team and all our partners deserve a huge thanks for the effort that carried us to all the successes this year."
Comrie-Picard and ACP Racing were consistent podium finishers throughout the 2009 Rally America season, with their results topped by an overall win at the  Colorado Rally last month and a top-five finish at the high-profile X Games this summer in Los Angeles.
The factory-backed Travis Pastrana, of Subaru Rally Team USA, took the championship win for a fourth-consecutive season, while top Polish driver Andi Mancin secured second place after ACP retired from the season ender while running in second place overall.
Initial investigation suggests that the engine was damaged by water taken in at a water splash about 90 miles into the 130-mile contest.
"We'll be back next year to contest not only the rally championship and X Games, but also the new Rally America rally cross contests scheduled for late 2010 in the Northeastern USA," said Comrie-Picard. "Next year looks like a great one and with our renewed relationship with NOS Energy we expect great success."
Rally car racing is considered the extreme sport of automobile racing and is often described simply as "real cars, real roads, real fast." This all-season motorsport sees drivers and their co-drivers take modified road cars to the limit as they achieve blistering speeds over courses that cover hundreds of miles of gravel, dirt or snow-covered roads.
---
ABOUT THE DRIVER: Andrew Comrie-Picard is a contender for the top of the ranks in the American, Canadian, and North American rally championships and returned to compete in X Games this summer for the fourth time. When he isn't racing, Comrie-Picard works in film, television, and print media as an automotive expert and divides his time between Toronto, Canada, and Los Angeles, California.
--
The ACP Rally program is made possible by: NOS Energy (www.drinknos.com), K&N (www.knfilters.com), Mitsubishi Canada (www.mitsubishi-motors.ca), Yokohama Canada (www.yokohama.ca), Bully Dog (www.bullydog.com), Motul (www.motulusa.com), AMS (www.amsperformance.com), Works (www.worksevo.com), Brian Crower (www.briancrower.com), JE (www.jepistons.com), Exedy (www.exedyusa.com), Öhlins (www.ohlinsusa.com), Pfitzner Performance Gearbox (www.ppgearbox.com.au), Mishimoto (www.mishimoto.com), Oakley (www.oakley.com), Innovate Motorsports (www.tuneyourengine.com), Team Dynamics (www.teamdynamicsracing.com), Endless (www.endlessusa.com), NBB (www.nbblights.ca), Sparco (www.sparcousa.com), NGK (www.ngksparkplugs.com), Seibon Carbon (www.seiboncarbon.com), Rockford Fosgate (www.rockfordfosgate.com), Piloti (www.piloti.com), and Skull Candy (www.skullcandy.com).
--
For more information and video highlights, visit: www.acprally.com and read the team's blog at www.drinknos.com. To arrange interviews or find out more, contact +1647-500-2729 or musketeerracing(at)yahoo(dot)com. Find us on YouTube or Twitter under ACPRally. Photo courtesy of Rally America.
About Rockford Fosgate
Setting the standard for excellence in the audio industry, Rockford Corporation markets high-performance audio systems under the brand Rockford Fosgate® for the mobile, motorsport, and marine audio aftermarket and OEM market. Headquartered in Tempe, Ariz., Rockford Corporation is a wholly owned subsidiary of Patrick Industries, Inc. (NASDAQ: PATK).