America's Motocross Track, RedBud, welcomes Rockford Fosgate® as its title sponsor for the 2017 MX National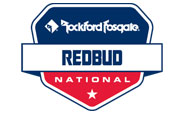 BUCHANAN, Mich. (June 20, 2017) – RedBud MX, "America's Motocross Track," is pleased to welcome Rockford Fosgate® as the title sponsor for the upcoming (July 1st) round of the Lucas Oil Motocross Championship at RedBud.

Well-known throughout the powersports, automotive and marine industries as an innovative leader in both design and function, Rockford Fosgate continues its relationship with RedBud motocross properties, this year elevating to the status of title sponsor for America's premier motocross track on the world's No. 1 professional motocross racing circuit.

"We are pleased to be back at RedBud for our second year and thrilled to be the title partner," said Rockford Corporation CEO Bill Jackson. "As powersports continues to be an even greater focus of our business, we believe this event is a fantastic platform to showcase our products and connect with the entire industry."

Rockford Fosgate made a big splash when, for the first time, it joined RedBud as a presenting sponsor for the 2016 MX National. So fans of Rockford Fosgate can expect an even larger activation effort from the industry-leading audio giant, including several Rockford Fosgate display demos with Polaris RZRs, as well as on-site kitted audio displays in a Yamaha YXZ and Harley Davidson bagger. Rockford Fosgate will also bring out its renowned Sound Lab Experience and all the RedBud fans are encouraged to hear and feel thousands of watts of incomparable Rockford Audio – above the din of 40 thumping four-stroke race bikes just a few steps away!

"For as long as I can remember Rockford Fosgate audio systems have been the choice of top pro motocrossers from RedBud to Hangtown – and everywhere in between," said RedBud's Tim Ritchie. "Even before Rockford Fosgate got involved with sponsoring motocross events, racers ran Rockford Fosgate product in everything from their personal rides to their wake boats.

"Rockford Fosgate has always had that cool, cult following within the dirt bike industry … so it's a natural to have them on board this year as our title sponsor at RedBud."

For more information on RedBud MX and the upcoming Rockford Fosgate RedBud MX National, round six of the 2017 Lucas Oil Motocross Championship, please visit: www.redbudmx.com

Photo credit: Rockford Fosgate

RedBud supports the sport of motocross and has since 1973! For 44 years the region's most prestigious amateur events and Round Six of the AMA Lucas Oil Motocross Championship have rolled through the beautiful rolling hills of southwestern Michigan. A state with an affinity for off-road recreational vehicle use, RedBud owns the bragging rights to the highest attended U.S. motocross race year after year. Just the right soil mix, lots of passing and the BIGGEST jump on the circuit (LaRocco's Leap), the track provides for some terribly exciting motocross racing … definitely a top motocross destination in a region that loves its motorsports!
About Rockford Fosgate
Setting the standard for excellence in the audio industry, Rockford Corporation markets high-performance audio systems under the brand Rockford Fosgate® for the mobile, motorsport, and marine audio aftermarket and OEM market. Headquartered in Tempe, Ariz., Rockford Corporation is a wholly owned subsidiary of Patrick Industries, Inc. (NASDAQ: PATK).