American Dream Dodge Charger R/T From Poland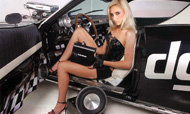 This is an impressive article about a Rockford Fosgate equipped Dodge Charger published in "GT 129", a Polish magazine. "American Dream" was first published in an 08/2009 issue, with an 09/2009 issue published as the "car of the month".

The Dodge Charger R/T was totally rebuilt, with some innovations like pneumatic trunk opening and remote controlled door openings (no door handles).  The trunk floor is made from marble tiles and of course a lot of mechanical works.  Mechanically the car is awesome.
 
Amps:
Rockford  Fosgate Power T8004 4-channel amplifier
Rockford  Fosgate Power T20001bd mono amplifier
Speakers:
Front - Rockford Fosgate Power T162S + midbass
Trunk: Rockford Fosgate Power T1693C
Subwoofers:
(2) Rockford Fosgate Power T212D2 12" subwoofers
Capacitors:
(2) Rockford Fosgate C2D
Battery:
Kinetik
Source Unit:
Pioneer
Video:
http://www.youtube.com/watch?v=EFYGfbPPSHI
Authorized Distributor:
Intergraf Trading, Poland

View the entire article by downloading the PDF.  This article is only available in Polish, but the photos are worth 1,000 words.

About Rockford Fosgate
Setting the standard for excellence in the audio industry, Rockford Corporation markets high-performance audio systems under the brand Rockford Fosgate® for the mobile, motorsport, and marine audio aftermarket and OEM market. Headquartered in Tempe, Ariz., Rockford Corporation is a wholly owned subsidiary of Patrick Industries, Inc. (NASDAQ: PATK).