AMA Supercross Star Josh Grant Joins The Rockford Fosgate Family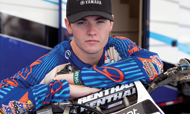 Pro Supercross rider Josh Grant "JG" got an unexpected surprise Friday when his sponsor Rockford Fosgate showed up with a $25k custom built sound system for his ride before the 2009 X Games.
Rockford Fosgate knew that JG, who is known for his crazy whips, lived life at full throttle so they designed and built him an audio system to match.  "I'm blown away because I've never had a system that loud before.  I can't wait to drive it to the Staples Center for the Best Whip competition" stated JG.  Rockford Fosgate went full tilt by installing 16 speakers including (4) 15" subwoofers powered by over 5000 watts in JG's SUV.   The system had to match his personality so Rockford upgraded the vehicles charging system, batteries and even added sound dampening material to ensure his music was always rock solid.
JG won the AMA Supercross opener and is in the hunt for this seasons AMA Supercross title. Undoubtedly, this new Rockford system will let him and his Metal Mulisha crew, disturb the peace before any upcoming events.  "Since competing as a pro in 2004 JG has finished in the top 10 in points in every series he has entered.  His attitude and commitment to being the best is what we are all about."  States Jake Braaten, Director of Brand/Product Development for Rockford Fosgate.
Stay tuned to www.joshgrant.com or www.amasupercross.com for all JG's season highlights.


---
Rockford Fosgate products are available at over 800 Rockford Fosgate retailers nationwide. 



R
ockford is a designer, marketer and distributor of high-performance audio systems for the mobile audio aftermarket and for the OEM market. Rockford's mobile audio products are marketed primarily under the Rockford Fosgate(R), Rockford Acoustic Design(TM) and Lightning Audio(R) brand names.


Rockford's primary brand websites include:
https://rockfordfosgate.com
,
http://www.rockfordacousticdesign.com
, and
http://www.lightningaudio.com
and
http://www.installedge.com
.


Rockford Fosgate is a division of Rockford Corporation in Tempe, Ariz., a publicly traded company under the NASDAQ stock symbol ROFO. Company websites can be viewed at rockfordfosgate.com and rockfordcorp.com
About Rockford Fosgate
Setting the standard for excellence in the audio industry, Rockford Corporation markets high-performance audio systems under the brand Rockford Fosgate® for the mobile, motorsport, and marine audio aftermarket and OEM market. Headquartered in Tempe, Ariz., Rockford Corporation is a wholly owned subsidiary of Patrick Industries, Inc. (NASDAQ: PATK).