ACP takes strong early season points at U.S. season-opener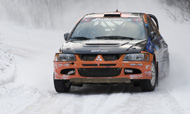 Defending North American rally champion Andrew "ACP" Comrie-Picard earned some strong early-season points with a fourth-place finish at the icy U.S. season opener this weekend in northern Michigan.
 
The NOS Energy-backed rally team of ACP and co-driver Jeremy Wimpey took a cautious approach to the start of the contest in some of the most challenging conditions ever seen in U.S. rally competition.
 
"It was like a luge course out there," said Comrie-Picard. "The first few stages were the iciest I have ever seen… and the rally just got icier from there."
 
Winter racing in those conditions is about keeping it tidy and making fewer mistakes than the competition. It's a strategy that earned ACP the win at this event in 2006, and he has finished on the podium in each of the past two years.
 
The rally was going to plan, with the team working toward a podium finish, but a misstep led to an off-road excursion that cost them eight minutes. Pro mountain bike riders Carl Decker and Adam Craig – both national team members who ride for Giant – stopped in the middle of the race to yank them out so the team didn't lose any more time shoveling.
 
The incident dropped the team to eighth overall. With some smart driving, they were able to bring their car home in fourth-place overall.
 
The event drew thousands of spectators to northern Michigan to cheer on the teams – despite the cold and icy weather. Special thanks from the team to the Garland Lodge and Resort in Lewiston, MI, for their support at this event.
 
The duo will next compete at Canada's Round 1, the Rallye Perce Neige, next weekend in Maniwaki, Quebec. The team next appears in U.S. competition February 26-27 in southern Missouri.
 
The Rally America national championship is a challenging, all-season series comprised of six events across the country. Rally America also organizes the marquee X Games rally contest each summer, airing on ESPN and ABC. The 2010 season will also see the launch of the European-style rally cross discipline mid-year. Comrie-Picard is expected to take on both of these rally series and make a return to the X Games for a fifth year. He will also compete in the Canadian Rally Championship.
 
Rally car racing is considered the extreme sport of automobile racing and is often described simply as "real cars, real roads, real fast." This all-season motorsport sees drivers and their co-drivers take modified road cars to the limit as they achieve blistering speeds over courses that cover more than 100 miles of gravel, dirt or snow-covered roads.
 
The sport is featured in the annual X Games, the premier action sports event on the globe, featuring athletes competing for medals and prize money in sports including BMX Freestyle, Moto X, Skateboard, and Rally. Comrie-Picard has been among the dozen invited drivers in each of the four years since the rally discipline was introduced to the contest and he expects to return in 2010.
 
--
ABOUT THE DRIVER: Defending North American Rally Champion Andrew Comrie-Picard is a contender for the American, Canadian, and North American rally championships and expects to return to compete in X Games this summer for fifth time. When he isn't racing, Comrie-Picard works in film, television, and print media as an automotive expert and divides his time between Toronto, Canada, and Los Angeles, California.
--
ABOUT THE CO-DRIVER: Jeremy Wimpey first paired with ACP at the 2009 Colorado Rally where they quickly gained confidence and an overall win. A trail scientist by day, Wimpey brings his attention to detail and warped sense of humor to the team. He has been involved in rally car competition since 2002.
--
The ACP Rally program is made possible by:
NOS Energy (www.drinknos.com ),
K&N (www.knfilters.com ),
Yokohama Canada (www.yokohama.ca ),
Garland Lodge and Resort (www.garlandusa.com ),
Bully Dog (www.bullydog.com  ),
Motul (www.motulusa.com  ),
AMS (www.amsperformance.com  ),
Öhlins (www.ohlinsusa.com  ),
Brian Crower (www.briancrower.com  ),
JE (www.jepistons.com  ),
Exedy (www.exedyusa.com  ),
Oakley (www.oakley.com  ),
Mishimoto (www.mishimoto.com ),
Innovate Motorsports (www.tuneyourengine.com  ),
Works (www.worksevo.com ),
Team Dynamics (www.teamdynamicsracing.com ),
Pfitzner Performance Gearbox (www.ppgearbox.com.au  ),
Endless (www.endlessusa.com  ),
NBB (www.nbblights.ca  ),
Sparco (www.sparcousa.com  ),
NGK (www.ngksparkplugs.com  ),
Rockford Fosgate (www.rockfordfosgate.com ),
Piloti (www.piloti.com  ),
Skull Candy (www.skullcandy.com ).
--
For more information and video highlights, visit: www.acprally.com. To arrange interviews or find out more, contact +1647-500-2729 or media(at)acpracing(dot)com. Find us on Twitter, YouTube or Facebook under ACP Rally. Photo courtesy of Mike Proulx, www.worldrallysport.com.
 
About Rockford Fosgate
Setting the standard for excellence in the audio industry, Rockford Corporation markets high-performance audio systems under the brand Rockford Fosgate® for the mobile, motorsport, and marine audio aftermarket and OEM market. Headquartered in Tempe, Ariz., Rockford Corporation is a wholly owned subsidiary of Patrick Industries, Inc. (NASDAQ: PATK).