A1 Audio Design's Rockford Fosgate Mitsubishi FTO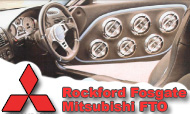 Rockford Fosgate Mitsubishi FTO
System Design

Source: Alpine CD-9886R CD tuner

Front Speakers: (6) Power T162S coaxial speakers in each door. (2) Power T152S components in centre console and a pair above sub port area.

Rear Speakers: (2) Power T215D4 dual 4-ohm woofers running 2-ohm load in slot ported custom enclosure in place of rear seat area. Box tuned to around 33Hz.

Amplifiers: (2) Power T2500-1bd amplifiers running subwoofers delivering 2500W RMS each. (1) Power T1000-4 delivering 6-ohms into each door and 2-ohm in the rear.

Thanks:Richard Page: (PPSUK sales) - 01707 650140 / 07534 981103 or [email protected] Phil and Paul at A1 Audio Designs / A1 Auto Trimmers - 01462 681118, alaudiodesigns.co.uk or a1aautotrimmers.co.uk.

Download PDF to read entire article.
About Rockford Corporation
Setting the standard for excellence in the audio industry, the Rockford Corporation markets and distributes high-performance audio systems for the car, utv audio, and marine audio aftermarket and OEM market. Headquartered in Tempe, Ariz., Rockford Corporation is a publicly traded company and manufactures or distributes its products under the brand: Rockford Fosgate(R). For more information, please visit: rockfordfosgate.com.